It's time for the March news and sharing my Silhouette "Secrets" with you!
March Featured Class and Coupon Code
This month's features class is
Let's Explore v4 – Text in Silhouette Studio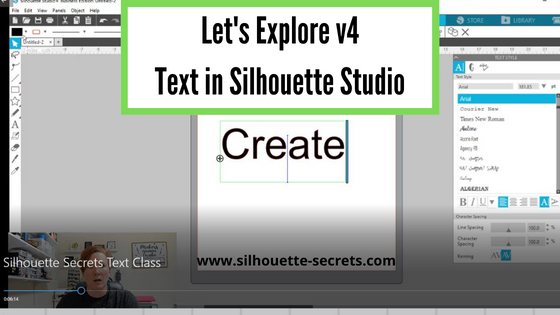 In this class we explore Text in Silhouette Studio including:
– the Text Tool
– Text Style Panel
– How to get accurate text sizing
– Resizing text
– Font Families
– Welding
– Script Fonts
– Offsetting text
– Tracing text
– Installing fonts
– Glyphs
It cover all the aspects of text in Silhouette Studio that I see so many users ask about. Become a text expert with me and expand your skills!
Check out the full class description HERE.
And use coupon code TEXT2023 to save $5 off this class.
Good through 3/31/23.
There are now 2 purchase options.
A 60-day access and a lifetime access. This is also NEW for 2023!
New Silhouette Class Released
Creating Unique Designs in Silhouette Studio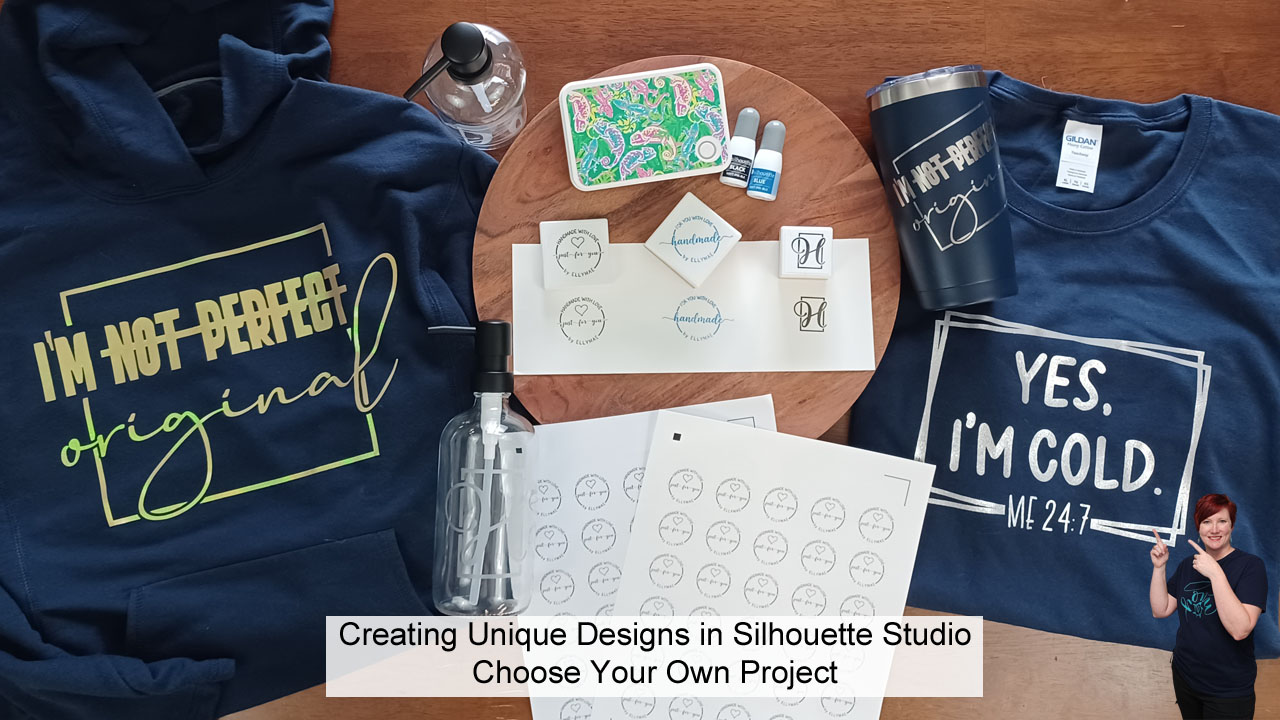 In this class you will learn how to create all of these designs in the photo above and you can choose what you want to create as a finished project.
Choose to make one or choose them all!
In this step-by-step class, we put the Silhouette Studio tools to work for us! This class is designed for all levels of users to follow along and create. A few of the tools we will discuss and use are: drawing tools, compound paths, text, offset, knife, glyphs, text to path, and more!
This is a custom design created by YOU could be used for all kinds of projects from adhesive vinyl, HTV, Mint stamps, stencils, and more!
I share examples of different finished projects with the techniques used and include optional supplies for additional projects on the class supply list.
As a bonus, I have also included a demonstration of Citristrip etching on a powder coated tumbler using a design created as the stencil.
Check out the full class description and supply list HERE.
Silhouette "Secrets"
– Because some things are just too good not to share! –
Silhouette "Secret" #1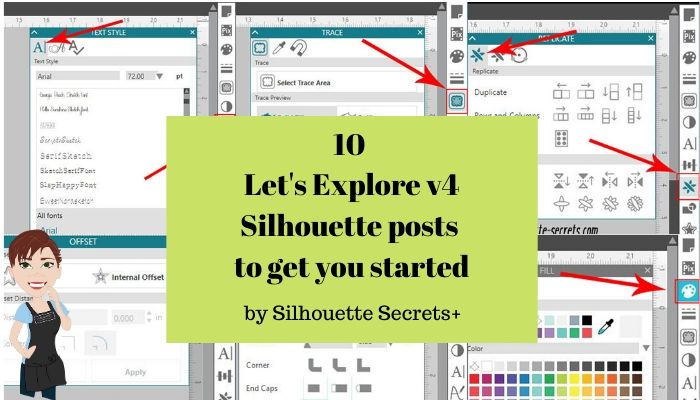 Top 10 tools in Silhouette Studio
Text Tool, Fill Color Panel, Line Style Panel, Align Tools, Trace Panel, Drawing Tools, Replicate Panel, Offset Panel, Quick Access Toolbar (QAT), Edit Points
These are the Top 10 tools I think that Silhouette users can put to work for them right away. You probably use most of them without even thinking about them.
Check out more details on that HERE
Silhouette "Secret" #2
I released a couple new videos on the Silhouette Secrets+ YouTube channel last month. One of those is
How to Set up Print and Cut Stickers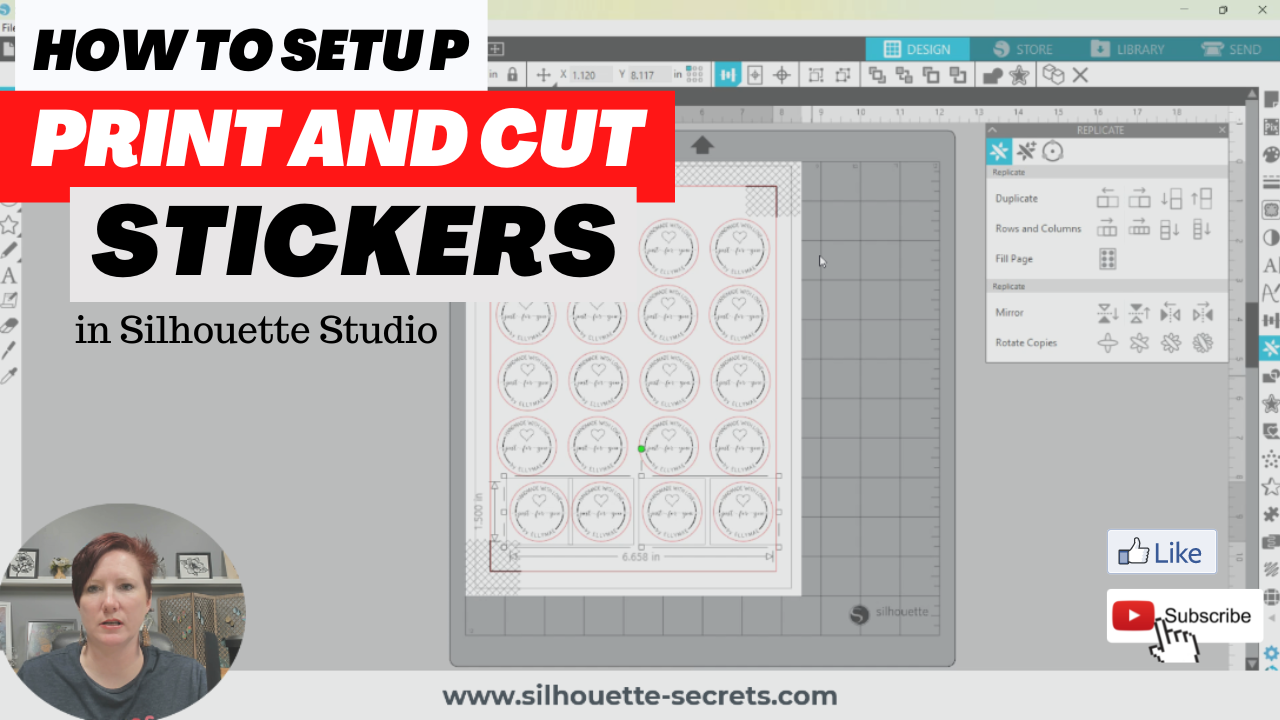 In this video, I show how you can turn cut lines off for items you only want to print and not to cut.
Check out this new video HERE.
Make sure to Like and Subscribe if you want to be notified of future content released on YouTube!
Silhouette "Secret" #3
I have been writing Silhouette tutorials and teaching classes now for 6+ years. That's a lot of information out there on the website to comb through.
I compiled all of it into an A to Z Silhouette Resource section on the blog.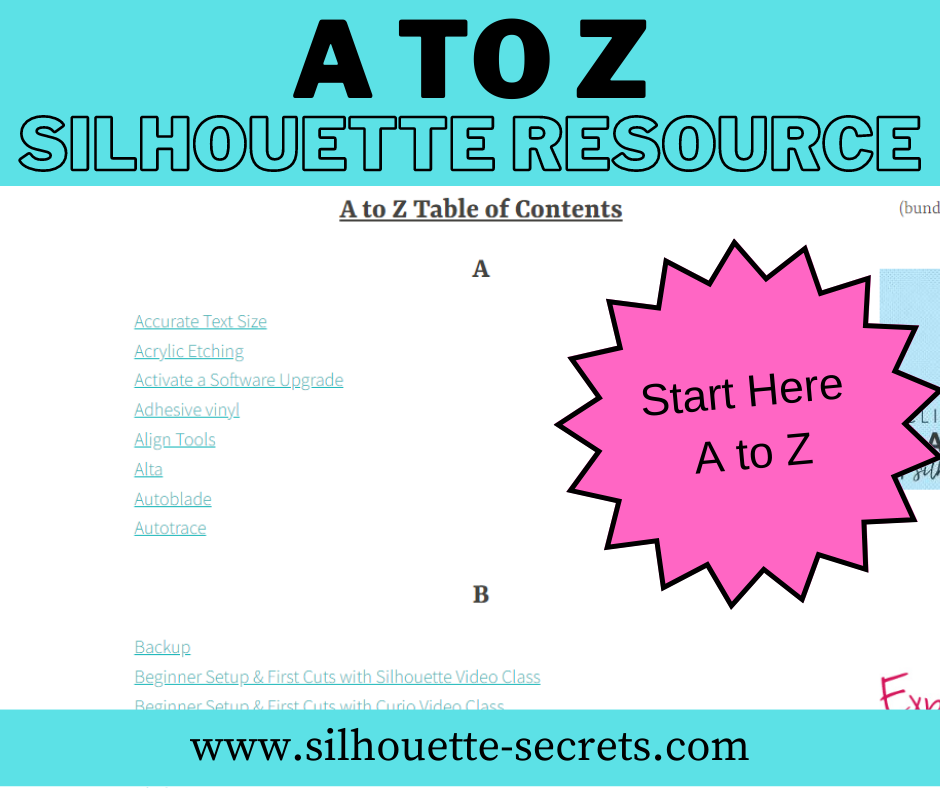 Click on the keyword and it will take you to more resources on each topic.
Check it out HERE.
I hope this month's "secrets" help you to be more successful with your Silhouette!
—–
I want to hear from you!
If you have any classes, tutorials, or techniques you would love to learn, please let me know on this Google Form below.
Silhouette Secrets+ Reader Survey HERE
I want to make sure I am putting out content that is relevant to my followers.
Thank you for taking the time to provide your feedback!
Silhouette Secrets+ Sponsor
CrafterCuts, a Silhouette Authorized reseller is a sponsor for my Silhouette Secrets+ Teachable site.
And I have a coupon code to save 10% on your order
Use code SECRETS at CrafterCuts
Get free shipping with a $35 order
I always recommend having extra blades and mats on hand for your projects this year!
You will also find this information under the NEW "Sponsor" tab at the top of the Silhouette Secrets+ Teachable site HERE.
Don't forget to check out all of the Recommended Retailers and Font sites on the blog HERE.
Thank you for your support! Each time you use an affiliate link to make a purchase, it supports me and what I do. You do not pay any more for that product, but I may get credit for the referral.
I also have a "Buy Me a Coffee" option as well on Ko-Fi because I know not everyone buys new supplies each month, but many still asked for a way to support Silhouette Secrets+.
Thank you all for your continued support of my small business!

Watch for more from me on the Silhouette Secrets+ blog and YouTube channel this month!
Find all the current Silhouette classes on my Teachable site HERE.
Find me online at: Silhouette Secrets+ Blog – https://bit.ly/3CnLZ8s
Silhouette Secrets+ FB Page – https://www.facebook.com/SilhouetteSecretsplus
Silhouette Secrets+ FB Group – https://www.facebook.com/groups/silhouettesecretsplus
Silhouette Secrets+ Instagram – https://www.instagram.com/silhouettesecretsplus/
Swift Creek Customs FB Page – https://www.facebook.com/swiftcreekcustoms
Swift Creek Customs FB Group – https://www.facebook.com/groups/swiftcreekcustoms
Have a great month!